Want to join a Twitch stream team but don't know where to start? The Twitch team functionality provided by Twitch is a fantastic way to build connections and network with like-minded streamers on Twitch. Joining a Twitch team can also help boost your own viewership and grow your audience as other members of the team share their audience with you. But where do you start?
Here at StreamWeasels we've been working in the Twitch space for over 5 years, and we're going to share with you everything you need to know about Twitch teams, how they work, and the benefits of joining one.
What are Twitch Teams and why should you join one?
A Twitch team is a group of people who have joined together under a common banner for mutual benefit. They are typically formed by team members who want to collaborate with each other on different aspects of their streams, but they are also often formed by other interested parties, like sponsors, gaming organizations, and eSports teams.
For example, one of the biggest and most successful Twitch teams is G Fuel. The G Fuel Twitch team brings together every streamer on Twitch who is lucky enough to be sponsored by G Fuel, which includes massive streamers such as TenZ, Summit1G, and ZealsAmbitions.
Another example of a massive Twitch team, this time in the eSports space is FaZe. The FaZe Twitch team currently has 73 members, each one being a member of Faze Clan, the massively popular gaming organization with influential members such as NickMercs and Swagg.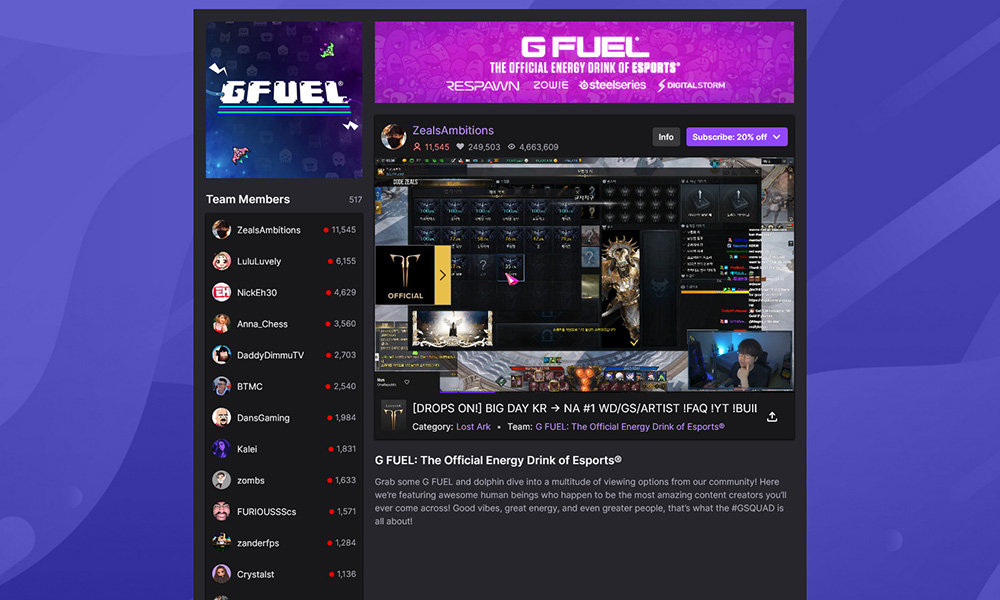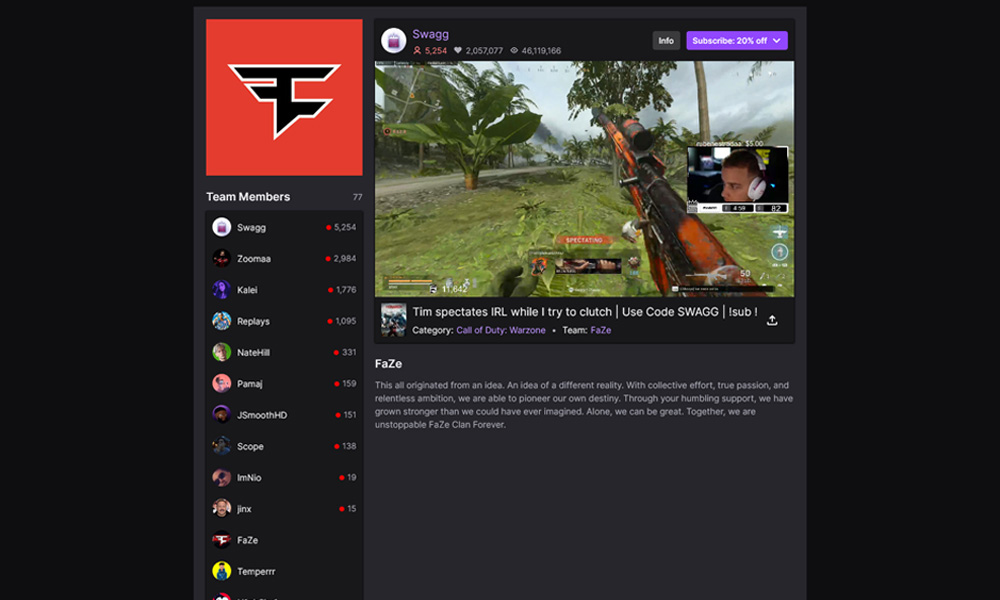 The benefits of joining a Twitch team
There are of course some obvious benefits in joining a Twitch team, especially if the team is a good fit for your own stream and is filled with like-minded members.
You get access to a large pool of like-minded people who can help you grow your channel and audience
You can collaborate with other streamers on different aspects of your stream like gameplay, chat interaction, promotion, etc.
You can share resources like equipment, software, and marketing efforts that would otherwise be spent individually
You can lean on your own Twitch team members to promote your own services like your own giveaways on Twitch
You can learn new skills from streamers with more experience than you and be able to mentor new streamers
You can leverage the existing audience of other members of the team who may be at a higher follower count than you
How can you find a Twitch team?
We mentioned above a couple of big and successful teams that have made an impact on Twitch, but how can you find a good Twitch team to join when you're just getting started on Twitch? This is something many Twitch streamers struggle with, as Twitch itself doesn't provide a good method of discovering teams on the Twitch website.
So how do you find a Twitch team to join? There are a couple of different methods you can use. First of all, you should consider what type of Twitch team it is that you're looking for. Teams come in all shapes and sizes and generally bring people together under some sort of banner. For example:
Identify the banner that you want your stream to fall into, then do some research on Google with a search like the following: 'Twitch Team for British People'. From a quick search, you should be able to find a couple of teams that might be worth looking into.
If you want to take a deeper look into the Twitch teams you have found from your search, take the team name and do a search on Sully Gnome – a 3rd party website that collates information on Twitch teams. From that search, you should be able to see how active the team is and what their viewership numbers look like. This is a great way to identify if the Twitch team you have found is a good fit for you and your stream.
The Top 10 Stream Teams on Twitch
If you simply look at the viewership figures, it's easy to figure out the top Twitch teams in 2022. In the top 10 list, you will see some Twitch teams that might be obvious, and some others that mya surprise you. Here is the top 10 Twitch stream teams in 2022, as of August, sorted by Watch time.
How can you join a Twitch team?
Once you have finally found a Twitch team that you're ready to call your new home on Twitch – the next step is to get an invite. Again, you can use the Sully Gnome website to do a deep dive on the Twitch team and find the most active Twitch usernames. These users might be a good place to start when looking for an invite. Some Twitch teams will also either have their own website, Twitter, or Discord. All three of these places should have contact information available that you can use to apply to join the team.
How to accept your Twitch team invite:
Log in to your Twitch account
Navigate to Settings -> Channels and Videos.
Scroll down the page until you find the "My Teams" section
Find the invite you want to accept, and press the appropriate button
How to create your own Twitch team:
In order to create your own Twitch team, you must be an official Twitch partner
Create a Support Ticket while logged in to your Twitch partner account
In the ticket, request the Team name, URL, and owner
Simply wait for the ticket to be resolved and your new Twitch team is born
Things to note about Twitch teams:
Partners are limited to the creation of two teams
Once a Team is created, the Team URL cannot be changed
If you delete or transfer ownership of a team, you will not be allowed to make additional creation requests
Only one account can own or edit a Twitch team
How to leave a Twitch Team
Log in to your Twitch account
Navigate to Settings -> Channels and Videos.
Scroll down the page until you find the "My Teams" section
Click the "Remove" option
You've now exited the team and are free to join and find another team.
Taking your Twitch team one step further
One method that some of the most popular Twitch stream teams use to further promote their team is to set up a Twitch team website. A team website allows you to showcase and manage all of your Twitch team members content in one place, while also allowing you to build your team's brand identity.
For streamers who want to set up their own online presence off Twitch without having to learn much about coding, StreamWeasels is an excellent solution. We can help you get set up with a simple WordPress website, and with our Twitch plugins for WordPress, you can embed your Twitch team in 3 simple steps. Proudly display your Twitch team streamers on your homepage and allow your users to easily find and discover online streamers from your team.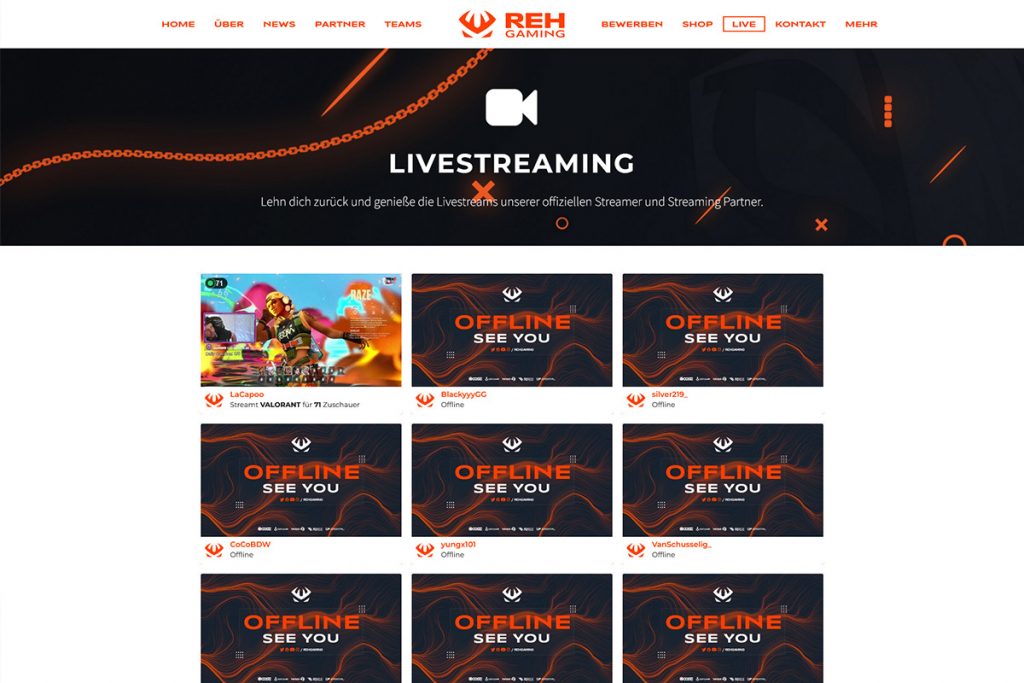 Our plugins are already in use on more than 1000 Twitch stream team websites, so why not join them?