In this guide I'm going to walk you through the many steps of choosing, setting up and building your very own WoW guild website.
From selecting a domain name, to website hosting, to getting started in WordPress, we'll attempt to make the process of creating a guild website as simple as possible and helping you understanding the different steps and technologies involved.
Our mission is to give you all the knowledge and tools you need to build a website that looks like it belongs to a World of Warcraft guild, impresses your audience and improves your online visibility. For a quick overview of the below article, checkout our video:
---
Regardless of technical proficiency, anyone can create a polished and appealing website with the correct tools and advice. So let's get going!
Domain Name and Hosting for your WoW Guild Website
The first step in putting your WoW guild website together is choosing a domain name and website hosting. A domain name is the web address people will use to find your website. It is essential that your domain name is easy to remember and relevant to your WoW guild. The easy choice would be to simply go for your guild name followed by one of the standard TLDs like .com, .net or .org. If you choose to go with a registrar like Namecheap, you can also go for a more interesting TLD like .io, .xyz or .gg.
Here are a few examples from the top WoW guilds:
Once you've secured your domain name, hosting is next on the list. If you decide to register your domain name with Namecheap, it might be a good idea to bundle in hosting (and WordPress) while you're there!
Namecheap have a service called EasyWP which provides fast and reliable website hosting, along with easy-to-use tools and features that make it simple for anyone to get up and running with WordPress, regardless of their technical abilities. With EasyWP, you can get your website up and running in no time, and their customer support is always available to assist you with any questions or issues you may encounter.
Outlining Your WoW Guild Website's Objectives
Once you have secured your domain name and website hosting, it's time to define your goals. What do you want your website to achieve? There are many different things you could use a guild website for.
For example, if we take a deeper look at the website for Method, looking at the homepage you can see the main items they have decided to focus on:
World of Warcraft news and guides
One of the main features on the method website is general WoW news and guides, which they have showcased front-and-centre on the guild homepage.
Recent WoW news from the guild
MEthod are using their website to display their own latest news, allowing guild members and others to read up on what's new with Method – for example their recent Race to World First or their new partnerships.
Member and Community Streamers
The last thing Method are showcasing on their homepage is their members Twitch live stream content. Allowing your members to advertise their streams on your website is a great way to build an engaging experience for your users and guild members alike.
Some of these items might be a good choice your your own guild website, but there are plenty more things you can achieve. Use your guild website to:
Schedule, plan and manage Raid signups.
Advertise and manage recruitment.
Showcase your leaders, officers and core raiders.
Llink out to your various social channels, including your guild Discord.
Feature both Twitch and YouTube content from your top members.
Display your raid progress from raider.io.
Sell merch and raise funds for guild services.
Understanding the goals you have for your guild website will allow you to make better decisions when it comes to the next step – choosing the platform for your WoW Guild website.
Choose The Right Platform for your WoW Guild Website
A content management system (CMS) is a software platform that makes it easy for you to create, manage, and publish website content without needing much technical knowledge. When it comes to choosing a CMS for your WoW guild website, there are many options. In this guide, we're going to talk about two, WordPress and Shopify.
WordPress is a popular content management system (CMS) used for creating websites and blogs. It's been around for a long time, long enough to build up a userbase that claims to power over 40% of all websites on the internet. WordPress is open-source software, meaning it offers up a wide range of features, themes and plugins, making it a versatile and user-friendly platform for building anything from a simple blog to something much more complex like a WoW guild website.
Shopify is an e-commerce platform that has become one of the most popular e-commerce platforms, used by over 1 million businesses in 175 countries. Shopify provides users with a range of tools to manage and grow their an online store, including a website builder, payment processing, inventory management, and shipping solutions. This makes it a great choice if your primary goal for your website is to sell merchandise.
If you followed the guide above and chose to use Namecheap for your domain name, bundling in their easyWP service, then you will already have a working WordPress instance ready to go and we can move onto the next step.
Note: WordPress is able to handle eCommerce through the use of plugins like woocommerce, however it is in my opinion nowhere near as good at handling ecommerce as Shopify.
Another Note: It is possible to have the best of both worlds. You can run your main website on WordPress, and use a shop or store subdomain (shop.example.com) that runs on Shopify. This setup would require a little but of technical knowledge but running two different systems on the one domain name isn't outside the realms of possibility. Need help with this? Get in touch.
Ultima Gaming WordPress Theme for WoW Guild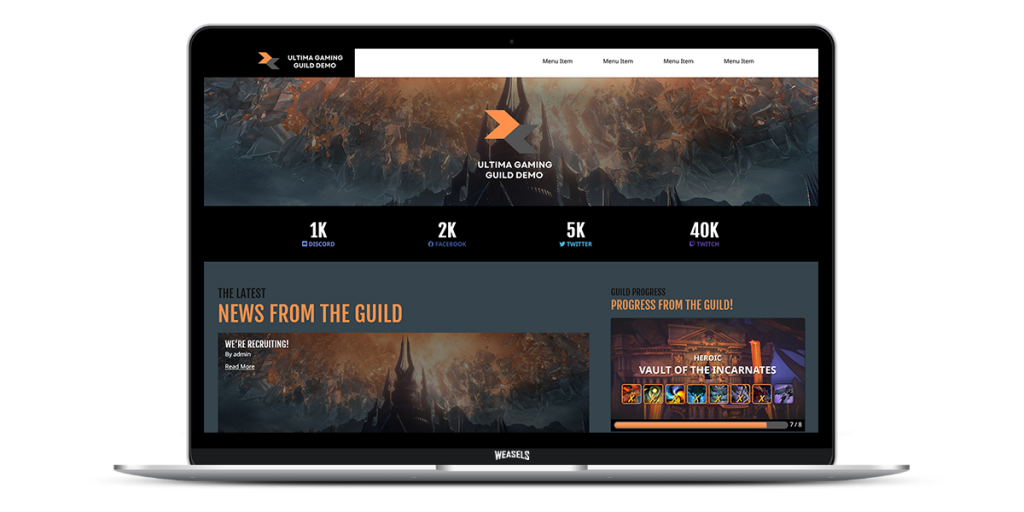 ---
If you go with WordPress, the main thing you must consider first is the WordPress theme to use for your WoW guild. There are many options to choose from, but we're going to go over our own theme – Ultima Gaming – which works great as a WoW Guild WordPress theme.
Ultima Gaming was specifically designed for gaming communities and has all the components and features you need to build an amazing website for your guild. One of the great features of the Ultima Gaming WordPress theme is the one-click demo import. Get your site up and running in just a few minutes by importing one of six pre-made demo sites, and then start making tweaks as necessary.
Another great feature of this theme is the tight content integration with our Twitch Integration and YouTube Integration plugins. With these integrations, you can showcase your members' content directly on your site, making it easy for your community to keep up with all the latest gaming action. Additionally, the theme also integrates with Raider.io (through our WoW Raider PRO plugin), allowing you to display important raid progress data.
The Ultima Gaming theme makes building your guild website easy and hassle-free. With its advanced features and customizable options, you can create a website that truly represents your community and impresses your members.
Highlight Your Top Creators with Twitch and YouTube Integrations
Something we do better here at StreamWeasels then anyone else is Twitch and YouTube integrations for WordPress. Ultima Gaming comes with some of this baked right in. For example, if you have a specific WoW Guild account on Twitch or YouTube, you can have Ultima Gaming act as a hub for that Twitch and YouTube content just by adding your account ID details. Highlight whenever your guild is live on Twitch, or display your Guild's YouTube content effortlessly.
If you want to take things a step further, you can include our Twitch and YouTube integration plugins for extra functionality.
StreamWeasels Twitch Integration
Feature your Twitch content on your WoW Guild website with StreamWeasels Twitch Integration.
---
StreamWeasels YouTube Integration
Feature your YouTube content on your WoW Guild website with StreamWeasels YouTube Integration.
Showcase Your Guild's Achievements with Raider.io WordPress Integration
heroic
vault of the incarnates
---
One thing you can get with Ultima Gaming that you won't get anywhere else is raider.io integration for WordPress to display your guild's raid progress on your WordPress website. This allows your members to keep track of the progress your guild is making and helps to build a sense of community and camaraderie within your guild.
By incorporating these features into your website, you can create an engaging and dynamic platform for your guild members to connect and stay informed. Your website will become an essential hub for all things related to your guild, and your members will be more likely to visit and participate regularly.
Conclusion
Building a stunning guild website that will impress your WoW community is within reach. By following the steps outlined in this guide, you can create a professional, functional, and attractive website that will serve as the hub of your guild's online presence.
However, we understand that building a website from scratch can be a daunting task, especially for those without technical skills or experience. That's why StreamWeasels offers products that can help you build your WoW guild website with ease.
Our Ultima Gaming theme is the perfect choice for creating a visually stunning website that will captivate your guild members. This theme is packed with features, including one-click demo import, Twitch and YouTube integration, and Raider.io integration, making it easier than ever to build a great looking website.