Table of contents
YouTube is quite easily the largest and most content-rich website in the world, with over a billion hours of content consumed by users every single day. YouTube Live is YouTube's attempt to take over the global live streaming market and steer some users away from Twitch. Over the last few years, YouTube Live has managed to draw some of the big streamers from Twitch – notable streamers like Dr Disrespect who now live stream exclusively on YouTube.
If you run your own website, you may want to feature some of the content on YouTube on your own site. Thankfully YouTube makes it very easy to embed YouTube live streams. You may want to embed your own YouTube live stream, embed someone else's live stream or even embed multiple YouTube live streams – in this article I'm going to show you how to do all of this.
How to embed YouTube Live Streams on your website (the easy way)
The absolute easiest way to embed a YouTube stream on your website is to use YouTube's built-in embedding system. YouTube allows you to embed any stream you want with just a few clicks, even if the stream doesn't belong to you. To do this, simply find the stream you want to embed and look for the share icon in the bottom right. Click the share icon, and then choose Embed.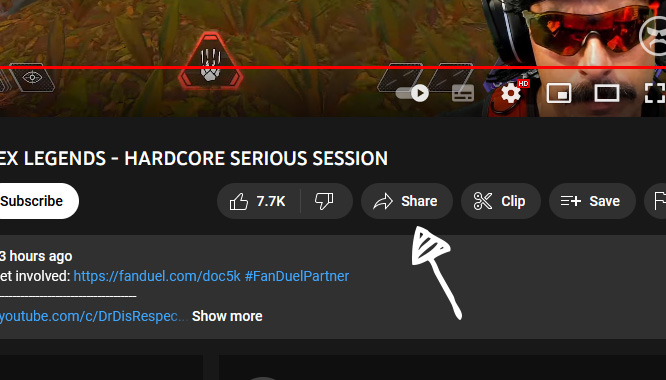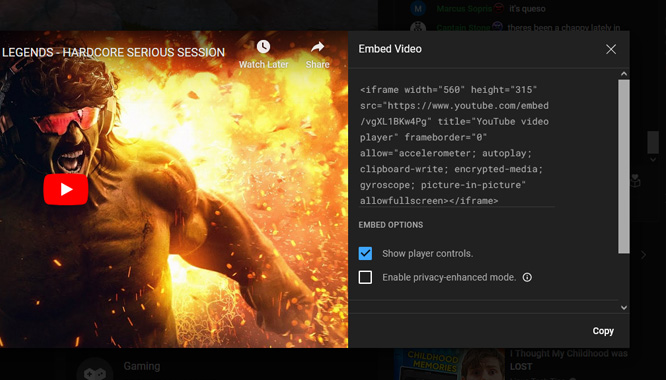 When you click Embed, you will be presented with the YouTube Live stream embed code. This code is an <iframe> and can be copied in it's entirety – ready to be pasted into your website. Depending on the platform your website uses, you may be able to simply paste the iframe code onto your page. Below I'm going to go into some detail about how you can embed the YouTube lice stream code into WordPress.
---
How to embed YouTube Live Streams on WordPress
WordPress, the leading open-source CMS powers over 35% of the web and it's a great choice and user-friendly way to manage your website. There are many more options when it comes to embedding YouTube streams in WordPress, but the easy way mentioned above will still work perfectly fine for many WordPress websites. Depending on your WordPress theme, we can show you how to take the YouTube iframe code and embed it into your WordPress page.
How To Embed YouTube Live Stream In Gutenberg
Gutenberg is the new block editor in WordPress, introduced in 2018 in version 5.0. Love it or hate it, it's very easy to embed YouTube live streams in Gutenberg. Simply load up your page, and within the block editor, add a new Custom HTML block. This presents you with a simple box that you can paste your YouTube embed code right inside like this.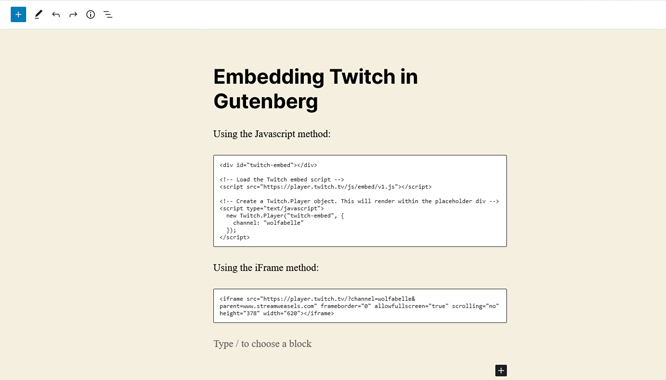 How To Embed YouTube Live Stream in WordPress classic editor
The classic editor in WordPress is still favored by many, as seen by the official classic editor plugin with over 5 million downloads. If you're one of those 5 million users, you'll be glad to know that embedding YouTube streams inside the classic editor is just as easy. Within your page, simply switch from visual mode to text mode and paste your code.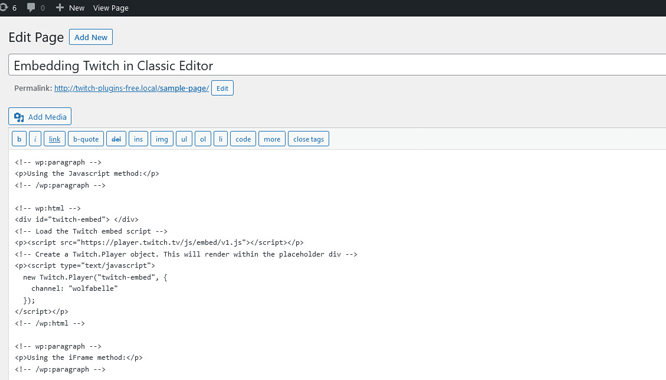 ---
How to embed YouTube Live Streams with StreamWeasels YouTube Integration (the awesome way)
Embedding a single YouTube live stream is easy enough with the above methods – but if you want to embed anything more than just a single Youtube channel then StreamWeasels YouTube Integration plugin is the way to go. We have a collection of Youtube WordPress plugins that allow you to embed all sorts of Youtube content. You can use StreamWeasels YouTube Integration to display all the videos from a single channel, or all videos from a single playlist. When it comes to YouTube live streams, you can display the live status of a single channel, or the live status of multiple channels all together. Choose to feature the channels that are currently live, and even hide the channels which are offline.
---
How to display channels YouTube Live status with YouTube Integration plugin
If you run your own website and you have YouTube channels that you want to feature – maybe your friends, team members, or clan mates – you can use StreamWeasels YouTube Integration to feature your friends YouTube live streams to ensure they are always gaining visibility on your website when they are live.
In the example below I have featured a few YouTube channels that are regularly live and you can see below which channels are live and which channels are offline – and simply click them to join the stream.
---
Common errors when embedding YouTube content
While it is very easy to embed YouTube live stream content on your website, there is a common error that many users come across when trying to embed content.
YouTube Video Unavailable error
The YouTube video unavailable error will often be displayed for one reason – the video or live stream you are trying to embed is either unlisted, private, or has embed options turned off.

If you are seeing this error on your own YouTube live stream embed, you may want to check that you have embed content enabled. To do this, navigate to your video or live stream settings page, and look for the 'Allow embedding' option. Make sure this box is checked and you should no longer see the YouTube video unavailable error when trying to embed your YouTube live stream content.
---
In Conclusion
Here at StreamWeasels, we think YouTube has done a pretty decent job at providing a solid YouTube embed experience to it's users. While the default experience certainly has its limitations, we hope that the solutions StreamWeasels has been able to bring to the WordPress space have helped fill a significant gap.
If you are in the WordPress space and are looking for a reliable and flexible way to embed YouTube live streams and video content, I'm sure you can see from this article that StreamWeasles has you covered. Feel free to take a look around our website and consider purchasing StreamWeasels YouTube Integration, and if you have any questions please don't hesitate to reach out.